Retiring to Santa Barbara is the pinnacle of retirement living. Roughly two hours northwest of Los Angeles, this idyllic coastal community earns its moniker as the American Rivera. The setting is spectacularly beautiful, as the stunning Santa Ynez Mountains frame the city from the north, and the glassy waters of the Pacific Ocean are to the south. There are few places like it with such scenery anywhere in the U.S.

Santa Barbara itself is a vibrant and dynamic city. A bustling, luxury-laden outpost is neither stuffy nor pretentious. With perfect weather, a landscape that lends itself to a wide variety of outdoor pursuits, and world-class dining, shopping, and entertainment, Santa Barbara is ideal for those looking to settle down after retirement.

As one might expect in such a locale, the real estate here is its own brand of spectacular; however, whether by choice or necessity, not everyone wants to spend their retirement years caring for a home, grand as that home may be. Thankfully, the upscale accommodations that define Santa Barbara's luxe neighborhoods extend to its retirement communities. 

The best of these senior enclaves understand that your golden years are no time to slow down or settle for a less than luxurious lifestyle. Santa Barbara's retirement communities provide just that: luxury living that fulfills every possible want, desire, or need you may have. It's upscale retirement living on your terms. To help with this difficult decision, we've compiled the top six retirement communities in Santa Barbara.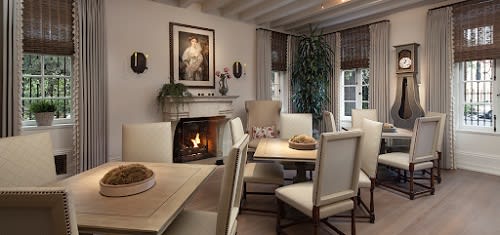 Our first community offers its residents one of the more unique settings in Santa Barbara to call home. Casa Dorinda began its life as a grand Spanish Colonial estate, built in 1919 and serving many functions in its illustrious history. It served as a private home, World War II rest and recuperation center for the Navy, and an all-girls school until 1975. After an extensive renovation, it reopened its doors as a retirement community.

Casa Dorinda is set on a stunning, richly opulent campus featuring independent and assisted living, as well as skilled nursing and memory care. Set on 48 gorgeous acres, the "Casa" is the Case Dorinda's social center, the luxurious central hub around which the larger community revolves. 

Living at Casa Dorinda includes apartments ranging from 440 square-foot studios to deluxe two-bedroom accommodations of up to 1,715 square feet. There are also specialty cottage apartments surrounding the community's great lawn and a handful of rare Casa apartments within the mansion.

|Casa Dorinda promotes a balanced, healthy lifestyle for its residents. Along with its person-centered care, wellness is a central focus. Amenities include a private medical center, state-of-the-art 3,200 square foot fitness center, outdoor pool, walking paths through the on-site Oak Preserve, and strength, aerobic, and yoga classes.

This sought-after community sits in the heart of Montecito with easy access to Santa Barbara's best restaurants, museums, and entertainment venues. Beach access is less than five minutes away. With all of this and more, it's no wonder why Casa Dorinda is one of our top picks for the best of Santa Barbara's retirement communities.   (Image Credit: Casa Dorinda)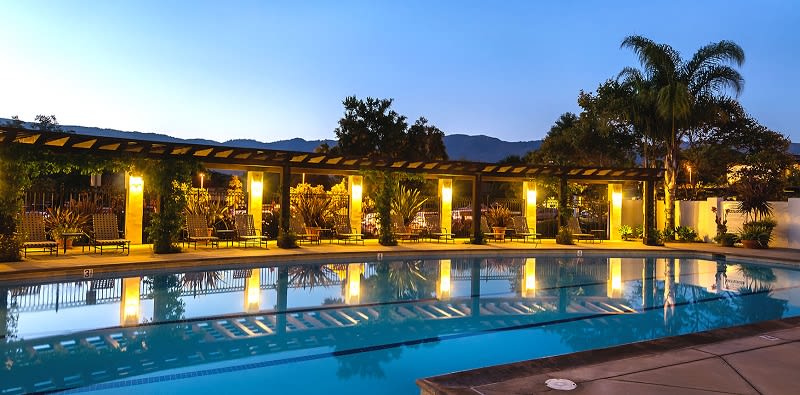 Credit: Senior Resource Group

Offering upscale independent and assisted living in the heart of one of Santa Barbara's most energetic areas, Maravilla ensures your retirement unfolds in style and with world-class care. The 20-acre community is in the heart of Santa Barbara's Goleta Valley. With its back to San Jose Creek, Maravilla offers a serene setting that's also just minutes from Santa Barbara Airport and a number of dining and retail opportunities.

The independent-minded will love the community's assortment of studio, one and two-bedroom apartments, which include quaint Casita homes and 1,150 square foot cottages. There's also a packed calendar of social activities and opportunities for cultural and educational fulfillment.

For those with more hands-on needs, Maravilla adopts a whole-person approach. Care is customized based on the individual receiving it — there's no one-size-fits-all here. The personalized attention and care include laundry services and flat housekeeping, medication management, transportation to and from doctor appointments (and points of interest across the city), and a 24-hour emergency call system.

Amenities include the Monarch Grille restaurant, fitness center, heated pool and spa, group wellness classes including water aerobics, massage rooms, walking paths, multiple theaters, a billiards room, and a full-service salon and barbershop. There's no doubt every resident is well cared for at Maravilla.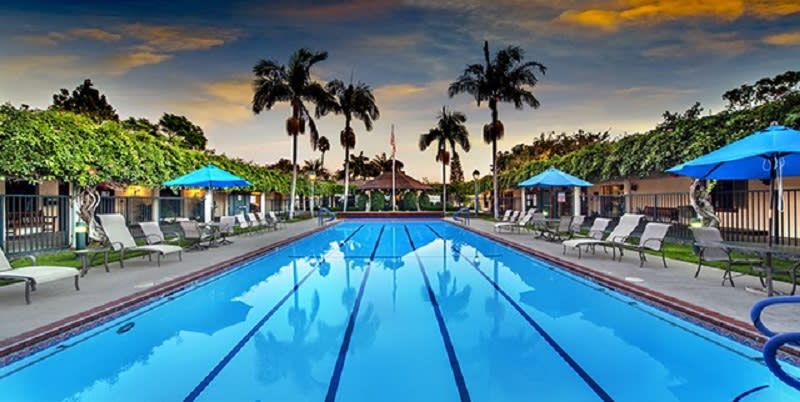 Credit: The Samarkand

Taking advantage of Santa Barbara's natural beauty, The Samarkand is an independent retirement home residing in a gorgeous setting. With the Santa Ynez Mountains as a backdrop, and the Pacific Ocean less than 10 minutes away, the Samarkand features studio, one, and two-bedroom apartments across 19 different floorplans. Most importantly, flexibility and a carefree lifestyle are paramount at the Samarkand. 

That lifestyle includes a commitment to wellness, along with an active calendar that promotes engagement. Amenities include a fitness center, aerobics room, and heated outdoor pool and spa. There are clubs and creative pursuits, enrichment programs, and cultural immersion in the Samarkand community and throughout the Santa Barbara area.

On-site dining and entertainment can be found at the Mountain View Cafe, Oaks Dining Room, and Mountain Room. If one is looking to get off-site, The Samarkand is close to the Santa Barbara Botanic Garden, Santa Ynez Valley wineries, and Santa Barbara's celebrated downtown district. 

Of course, beyond the lifestyle, The Samarkand is a Continuing Care Retirement Community. They provide both its residents and non-residents with unmatched health care, which includes assisted living, skilled nursing, memory care, and rehabilitation.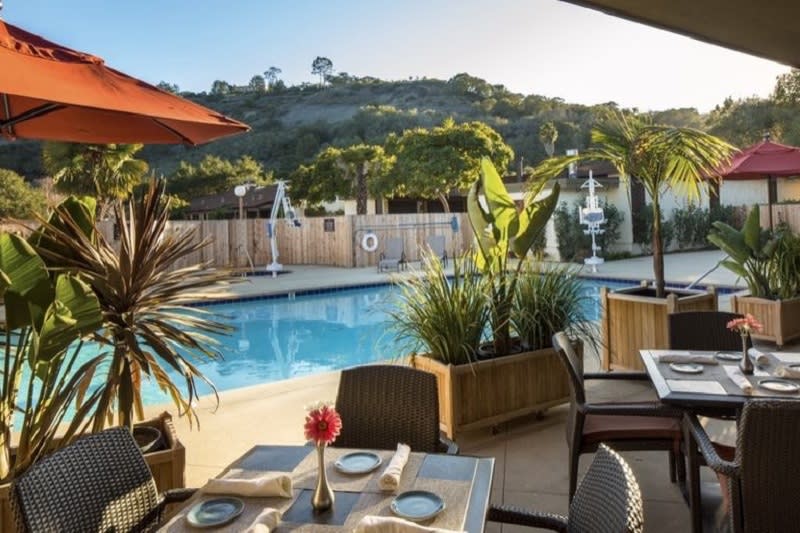 Credit : Seniorly

Located on 65-acres of exquisitely manicured land, Valle Verde offers its senior community one of Santa Barbara's most upscale lifestyles. Catering to accomplished, active residents, Valle Verde serves a number of post-retirement needs, including assisted living, on-site nursing and rehabilitation services, and memory care. Planned meals, social and educational opportunities, and a 24/7 security and emergency call system complement the commitment to a resident's overall health and well-being.

Valle Verde offers maintenance-free, single-family homes in a beautiful planned neighborhood-like atmosphere. This is an uncommon luxury among retirement communities that typically focus their housing around apartment-style living. The one and two-bedroom garden homes feature a full kitchen, den, and patios in the front and rear of the home. 

In addition, Valle Verde proves one of the more amenity-rich communities on our list. Residents can take advantage of executive chef, restaurant-style dining, a poolside grill, fitness center, swimming pool, day spa and salon, barbershop, theatre, library, and a convenience store. Valle Verde is also a few minutes away from Santa Barbara's downtown districts and a number of retail and dining areas.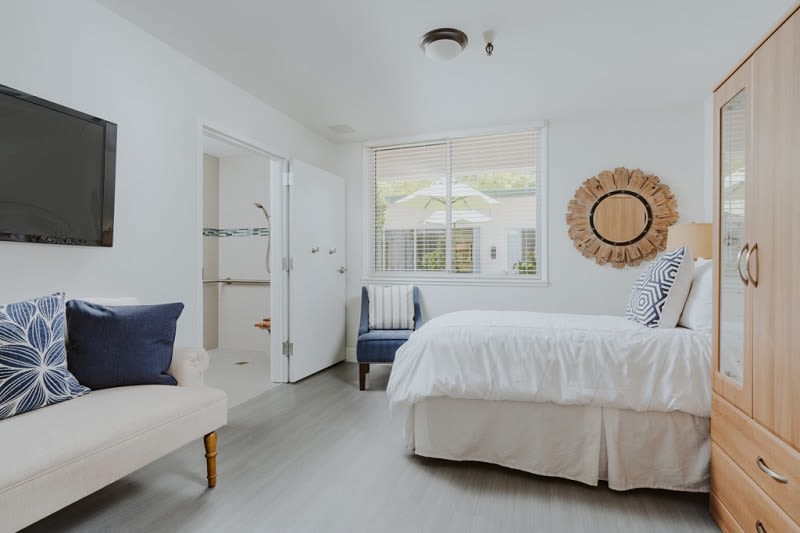 Credit: Vista del Monte

Close to Santa Barbara's historic downtown and offering fantastic views of the Santa Ynez Mountains, Vista del Monte provides a more accessible — but no less luxurious — retirement community experience. Housing options include studio and one to two-bedroom apartments.

In addition to its independent, assisted, and memory care services, Vista del Monte supports respite care, allowing for short-term stays and transition between the hospital and a patient's current non-retirement community residence. As a result, prospective residents can evaluate the Vista del Monte community should a future and more permanent need arise.

There's a deep commitment to wellness here. The fitness and aquatic center is a vibrant, central hub of activity. The indoor heated pool hosts freestyle swimming, water aerobics, and water volleyball. The fully outfitted state-of-the-art gym offers a full schedule of strength, cardio, and balanced-based classes, and personal trainers are also available.

Vista del Monte originally served as a retirement community for educators. Though the population expanded to include retirees from all walks of life, professors and teachers maintain a strong presence across the campus. That lineage shines in the community's commitment to learning and mental wellness. There's an on-site art studio available for individual or small group use and an in-house choir that entertains with seasonal concerts. Finally, the resident-curated library is a sight to behold and one of the community's most prized achievements.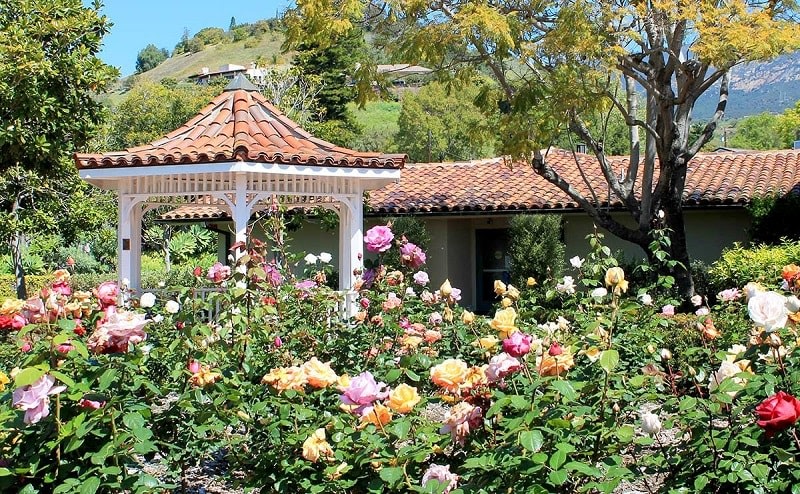 Credit: Wood Glen Hall

Our final Santa Barbara retirement community is arguably one of the city's most picturesque. Wood Glen Hall sits in the sublime foothills neighborhood of Mission Canyon in northern Santa Barbara. It's the quiet, peaceful side of the American Rivera with unmatched beauty and solace.

In addition to the majestic, up-close views of the Santa Ynez Mountains, the community could easily be mistaken for a botanical garden or national preserve. The colorful foliage and mature, well-manicured grounds lend to Wood Glen Hall's reputation as one of the more idyllic communities to spend your retirement.

In addition to the landscape, Wood Glen Hall provides an intimate setting for retirement care, with individual gardens and walking paths. All 63 of the community's rooms are located on the first floor, and garden view accommodations are available. For those seeking assisted living, services include medication management, housekeeping, emergency services, and transportation.

Although Wood Glen Hall offers fewer amenities than the retirement communities closer to the heart of Santa Barbara, the setting is the true amenity here. Like many other residences, there is a strong commitment to active living. Arts and crafts, music, exercise classes, and games occur daily. The campus hosts special events, such as cultural performances and guest speakers, and a full-time events coordinator organizes on-site experiences and excursions throughout Santa Barbara, including city museums, retail areas, and cafes.


Ready to explore the best of Santa Barbara real estate, including its most luxurious retirement communities? Contact Chris Palme today to start your home buying or selling journey. From Rivera real estate to Montecito homes for sale, allow Chris, with his years of experience and expertise, to be your guide to the American Riviera luxury real estate market.