Santa Barbara — otherwise known as the "American Riviera" — is a haven for retirees. With its ideal Mediterranean weather, pristine beaches, and gorgeous views of the Santa Ynez Mountains, it is like retiring in paradise. Though the town is generally considered a luxurious community, there are various
retirement options
with different investment levels to choose from. These centers feature striking amenities, welcoming atmospheres, and plenty of social events, allowing one to live a fulfilling and active lifestyle.
With this in mind, let's explore some of the top retirement communities in Santa Barbara.
Resources for retired living in Santa Barbara
Santa Barbara real estate has many options for retirees and senior living. The area has 35 assisted living facilities, which means the town has many
resources
for seniors. The Senior Volunteer Services connects people to volunteer opportunities such as working with children, veterans, and other community-oriented pursuits. Vistas Lifelong Learning hosts lectures and other informal events on science, philosophy, literature, and more. Additionally, the County of Santa Barbara Veterans Services Office works with veterans and their families, providing health care, education, and assisting with applications for benefits, pensions, and disability payments.
Vista del Monte
Vista del Monte
considers itself to be a front porch retirement community. They have many open spaces and beautifully landscaped enclaves along the campus, where you can enjoy the gorgeous weather of California and the beautiful views of Santa Barbara. It is a pet-friendly facility where dogs, birds, cats, and fish are welcome. They proudly feature fitness and aquatic centers with water volleyball, lap swimming, and many other fun classes to enjoy and socialize. Vista del Monte has plenty of cultural experiences, like their art studio, where you can craft your own projects or take a class to learn something new or attend one of the many concerts throughout the year put on by the resident choir. All their Santa Barbara property floor plans, from a studio up to the two-bedroom, two-bathroom unit, feature a patio or balcony for your enjoyment.
Maravilla
Maravilla
is a unique retirement community with something for everyone. They have a fully-equipped fitness center with aqua aerobics, a heated swimming pool, a spa, and plenty of walking paths through landscaped gardens. For lively social evenings, you can enjoy the billiard room or one of the movie theaters. Their one- and two-bedroom cottages have personal washers and dryers in the units, individual climate controls, and fully equipped kitchens with a built-in microwave. They provide transportation and carport parking if you prefer to have your own vehicle. If you ever need to move to assisted living, you can do so without actually relocating, allowing you to forgo the hassle of searching for new Santa Barbara real estate. Maravilla has assisted living services tailored to each individual and can be adapted at any time.
Valle Verde
Valle Verde
is a premier senior living community. They promote personal growth, individuality, and meaningful relationships. They have an on-site theater, fitness center, library, fully equipped woodshop, art rooms, and a poolside grill to enjoy. The community also has many events to enjoy, including athletics, fitness, personal development, and education. One particular highlight in their event calendar is the resident dog show which promises a day full of socialization, community, and happy companion animals. Their one- and two-bedroom garden homes are thoughtfully arranged with full kitchens, dens, and patios. Health services are available on-site, as are higher levels of care. There is comfort in knowing you will not need to be uprooted if you need to move to assisted living as skilled nursing and memory care are available at this Santa Barbara property.
Covenant Living at the Samarkand
Located between the Pacific Ocean and the Santa Ynez Mountains,
Covenant Living at the Samarkand
has beautiful views everywhere you go. In fact, Samarkand means "land of heart's desire." Doesn't that sound like the best Santa Barbara real estate to call home? The lifestyle is complete with beach barbecues, an outdoor heated pool, and other entertainment events. They have a fitness center to keep you in shape, computer classes and tech center to keep you sharp, and a woodshop and arts center to keep you creative. Their alcove one and two-bedroom homes feature spacious walk-in closets, full kitchens, and prominent windows with delightful views of the fountains and landscaped areas.
Wood Glen Hall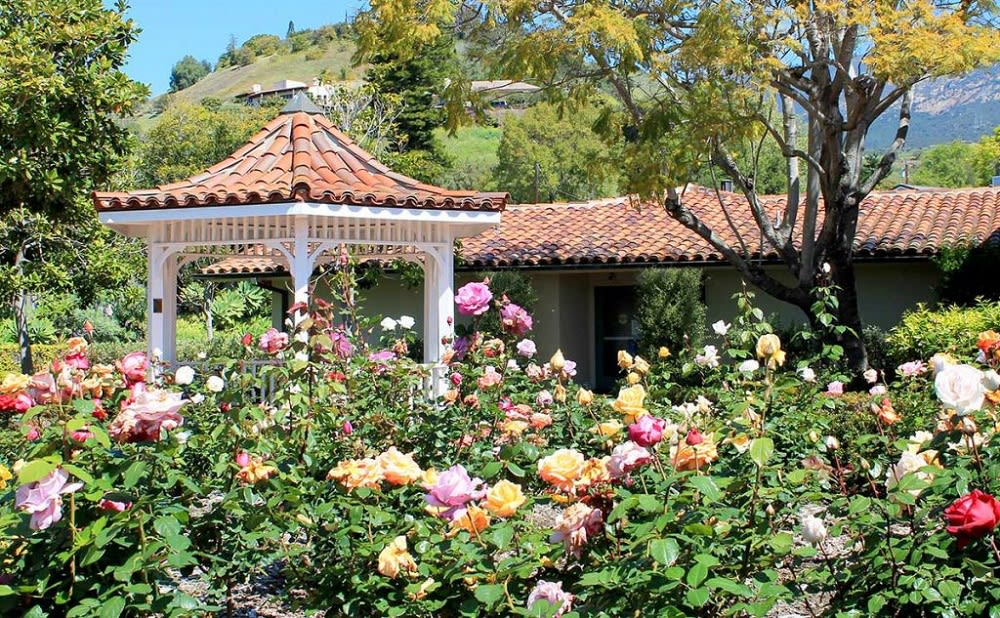 Wood Glen Hal
l is a non-profit retirement home located in the foothills. Highly valuing the beautiful climate of California, they have a four-acre garden to enjoy and several courtyards with seating areas. Inside, private dining rooms are available for you to use to entertain family and friends. Every day of the week, there are performers to see, classes to enjoy, and many other options for fun and socialization. You can also keep up your appearance with their on-site beauty salon and barbershop. All the homes on this Santa Barbara property have a private bathroom and a garden view. If the need arises to move into assisted care, you will not need to leave Wood Glen as they have several options available to fit your needs.
Casa Dorinda
Casa Dorinda
boasts the distinction as one of the highest-rated luxury retirement communities in the United States. The building was originally built as a grand estate by the Castor Oil fortune in 1919 before going through many changes and operating as the center for the Navy during World War II. In 1975, it opened its doors to the first residents of the Casa Dorinda Retirement Community. The original architectural details still shine and transport you to a rich and peaceful history, and they provide many activities on and off-campus to enjoy. One of the unique features is that none of the apartments are similar – each is unique in design and layout. Standard features include granite countertops, dishwashers, soundproof walls, built-in bookcases, wine storage, washer and dryers, custom tile showers with a bench, and patio awnings. Simply put, this is Santa Barbara real estate at its best.
Chris Palme
has in-depth knowledge of retirees' different services and communities and is happy to answer your questions. If you are interested in learning more about
available options for seniors
in the area, or you're interested in buying and selling residential real estate and investment property, contact Chris today to get started!

*Header photo courtesy of Mapquest, Covenant Living at the Samarkand